If you have Magento 2 and can't delete orders from the Admin, then you are not alone. This is because there is a huge lack of options for the admin panel that enable the deletion of orders in Magento 2. As we all know, Magento 2 is a powerful and complex system that can be hard to manage at times. Although you can manage a few things about your orders through the administration panel of your store.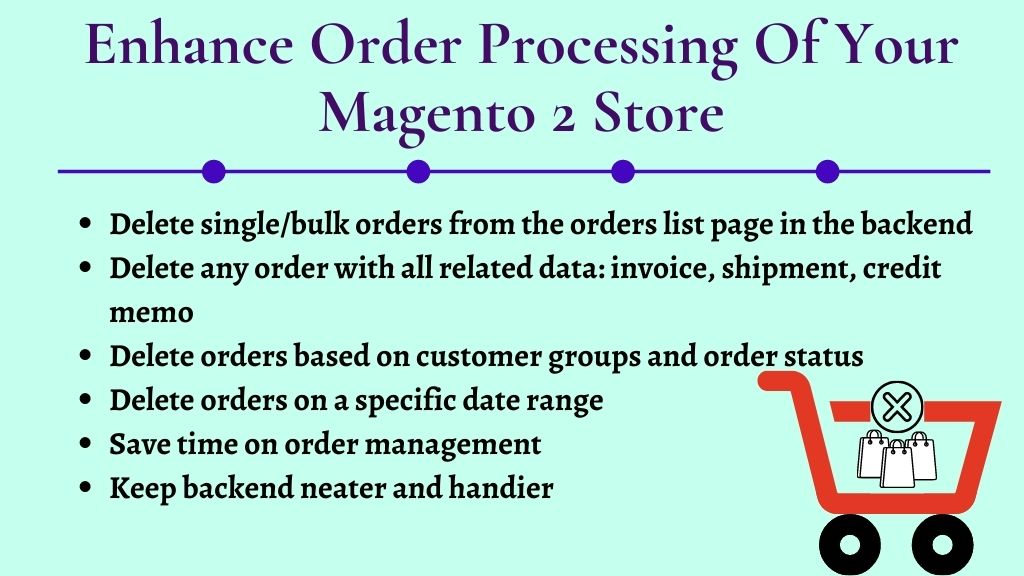 Magento 2 is arguably one of the most popular eCommerce platforms on the market, with over 170,000 active sites worldwide. The benefits of Magento 2 include a unified code base, scalability, and flexibility for creating custom themes or extensions. One of the best features about Magento 2 extensions is that they are created in PHP so developers will feel very comfortable working on them. Furthermore, Magento 2 product extensions are highly versatile and can be utilized in a variety of different ways.
So what does the Magento 2 Delete Orders From Admin extension do?
As the Magento community is growing, there are a number of things which you can do by default, however, there are certain functionalities which can only be achieved by extensions. The Magento 2 Delete Orders extension does many things which can't be done from the admin panel directly.
It deletes orders
There are times when you want to delete certain orders from your store. Maybe you or your team created them to test certain features or maybe those orders are incomplete and eating up server space. In all such case scenarios, you can delete orders from the admin extension for Magento 2 using Webiators' extension.
Keeping database clean
As the number of orders grows on a website, it becomes imperative to keep the database size small in order to keep the website running smoothly for each and every single visitor. Unwanted data such as certain product orders needs to be removed from the database to free up space and reduce the size. This not only helps the website function well, but also keeps the unnecessary files at bay.
Magento 2 extensions are third-party code additions to Magento that add new features, functionality, or improve existing features. They are installed directly into the Magento admin area. It is easy and free to install and uninstall extensions from within the admin using a few clicks of your mouse. They can also be installed in your local Magento installation if needed.
The team at Webiators has worked on Magento 2 Extensions for a couple of years, and we're still going strong by improving the plugin's capabilities. These days we're all about making Magento extensions even better by offering a bunch of easy-to-use functions that allow you to do just about anything you need to do in your store.
Whether you need help with order management, product inventory updates or the administration aspects of your store, you'll be able to find an extension that will help you out!
For more information, visit Our Store
Related Post:
Top 3 Magento 2 WhatsApp Extension You Must Have in 2021
Webiators Share on WhatsApp Extension For Magento 2
Webiators Quote On Whatsapp Extension For Magento 2
Webiators Chat On Whatsapp Extension For Magento 2
Webiators Reindex From Admin Extension For Magento 2
Hit 5 Stars if you find this post helpful