Mobile phone use isn't going away, and many experts agree that increasing dependence on these handy gadgets can only grow over time. It's something you can keep in mind when you strive to expand your company or website's visibility.
You could be in deep trouble if the design and functionality aren't designed for smartphones. We're not going to let you make that mistake, though. Continue reading to learn about one of the most effective ways to remain on top of the smartphone shopping game.
Your visibility can expand rapidly just by linking your online store to a single popular app through a dedicated Magento 2 WhatsApp extension, ensuring your products are share-worthy. WhatsApp is one of the most widely used instant messaging systems around the world.
As previously stated, WhatsApp is now used by over a billion people from around the world on a daily basis. Consider how much business you could get if you tapped into that niche. By making communication that much simpler, a Magento 2 WhatsApp share extension can attract a huge number of new visitors to your site. Consider the possibility of each and every product page is distributed to individuals and communities of WhatsApp users through the Magento 2 Share On WhatsApp plugin.
It'd be incredible! When your visitors like one or more of your products, they can send the information to their contacts in seconds using the plugin. Certainly, you will not be able to reach billions of users, so even touching a small number of them will be helpful when you install WhatsApp share extension Magento 2.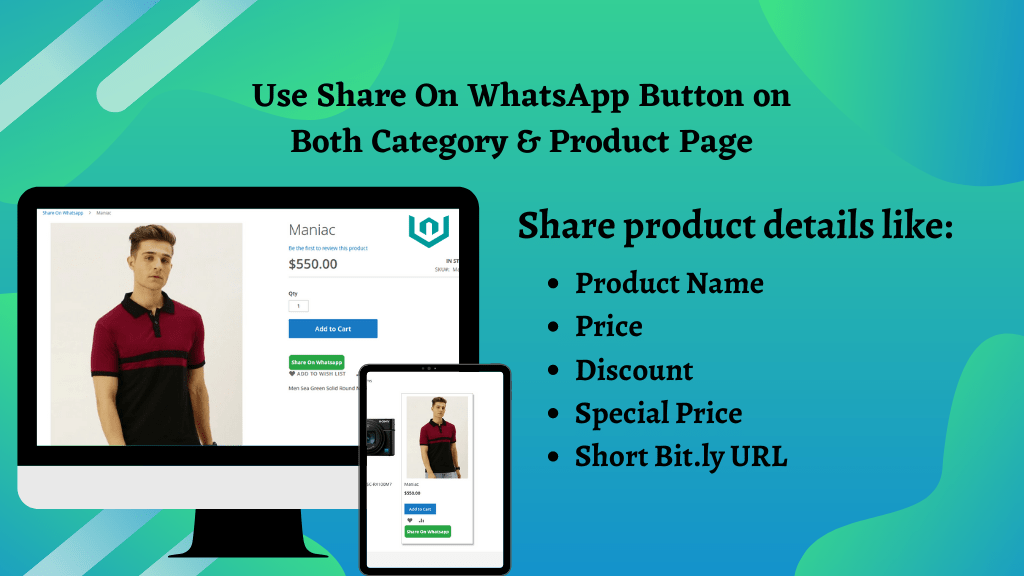 Many websites have started to include a WhatsApp Sharing Icon in their product pages and category pages. When reading about a product, visitors can use the Share On WhatsApp For Magento 2 plugin to share the information with their contacts (individually as well as in groups) in real-time. We all agree that the cheaper and quicker it is to post information, the more probable it is to be achieved. The more people who share your webpage, the better.
WhatsApp is a cross-platform instant messaging app that lets you send and receive messages without paying for SMS.
On cell phones, the Share on WhatsApp plugin for Magento 2 functions similarly to the Email option, with the exception that it is quicker and occurs in real-time.
The Share on WhatsApp plugin for Magento 2 functions similarly to most other social media symbols.
Add the Share on WhatsApp plugin for Magento 2 to your website and reap the benefits of increased traffic and marketing.
To know more, visit https://store.webiators.com/magento-2-extensions/share-on-whatsapp.html

Front End Demo || Back End Demo || User Guide
Also Read: Top 3 Magento 2 WhatsApp Extension You Must Have in 2021
Hit 5 Stars if you find this post helpful