The rise in smartphone penetration in past years has prompted web developers to create mobile-friendly websites. The number of cell phones per household has significantly exceeded the number of PCs per household. In reality, Google recently launched an update targeted at non-mobile-friendly websites. As a result, keeping up with the new mobile-friendly technology is a top priority.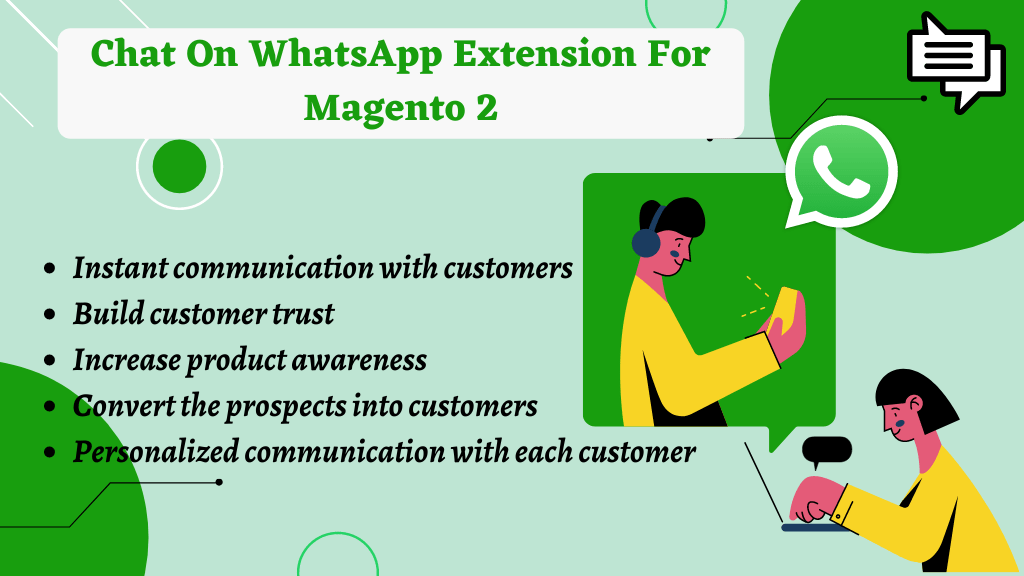 Since WhatsApp is a customized app, everything you share with it is only available to your private contacts. As a result, it would hit the appropriate audience and attract the most desirable readers. They will continue to participate in their communities and shows, ensuring that only the most dedicated and honest readers are reached.
Developers are increasingly discovering that chat apps are great forces and trendsetters in driving traffic, interaction, and virality. People want to communicate with their personal contacts through interesting and useful information, and WhatsApp, which has over one billion users, is a leading platform for doing so.
A common solution is Magento 2 Chat on WhatsApp extension. The Magento 2 extension for Whatsapp allows you to build both a basic WhatsApp click-to-talk button that directs visitors to WhatsApp with a pre-configured response and a much more live chat interface where visitors can type their own message and also pick individual members to send a text to. Customers can send you their cellphone number through the website, tablet, or laptop if they need a delivery confirmation, product information, or anything, and you can deliver this data to them through WhatsApp.
With the help of Chat On WhatsApp Extension For Magento 2, when you get access to the customers' contact number you will be able to share your catalog with new and current consumers to advertise your services and products. As WhatsApp has made product catalogs accessible, the plugin can work as a true extension making it easy for users to find things.
The Magento 2 WhatsApp extension with the highest rating is the most efficient click-to-chat solution available. It gives every WhatsApp user a new and natural experience. This extension provides a dedicated button for your website users to talk or ask any questions when it is enabled and configured. Type in your WhatsApp account details, such as mobile number, title, show name, customized design, and a beautiful WhatsApp chat key will show up in the corner of your website.
Webiators Chat on WhatsApp extension is available for download on the company's official store. The extension is offered with optional installation and configuration support which users can purchase. This helps them get a hassle-free option to get the feature without having to worry about installation or accidental damages to the website's core files or the store itself.
The extension is easy to use, easy to configure and is available at an affordable price on the company's website. It is one of the most preferred WhatsApp chat extensions for Magento 2 based websites.
To know more, visit https://store.webiators.com/magento-2-extensions/chatonwhatsapp.html
Front End Demo || Back End Demo || User Guide
Also Read:
Top 3 Magento 2 WhatsApp Extension You Must Have in 2021
Webiators Share on WhatsApp Extension For Magento 2
Webiators Quote On Whatsapp Extension For Magento 2
Hit 5 Stars if you find this post helpful