The worst part about running an online business is keeping potential customers on a waitlist. Particularly when it comes to creating service quotes, making clients wait can hurt your business even more as customers may lose interest or they may just forget and won't be interested anymore if your quotations or price estimations are late.
In order to solve this problem, Webiators Quote on Whatsapp Extension for Magento 2 is developed. With a quick button, visitors can easily ask for quotations on WhatsApp. Since it's one of the most popular messaging apps, it's worth integrating as it can help your consumers get information on their smartphone which makes the information easy to consume and share.
The Magento 2 WhatsApp Quote Extension is developed after in-depth analysis and efforts put into R&D activities. The key benefits of using the plugin make it one of the most preferred Magento plugins among webmasters. The Quote on Whatsapp extension for Magento 2 is easy to configure. You can just download the standalone plugin or you can install it from the repository and with just a few clicks you can get it running on your website.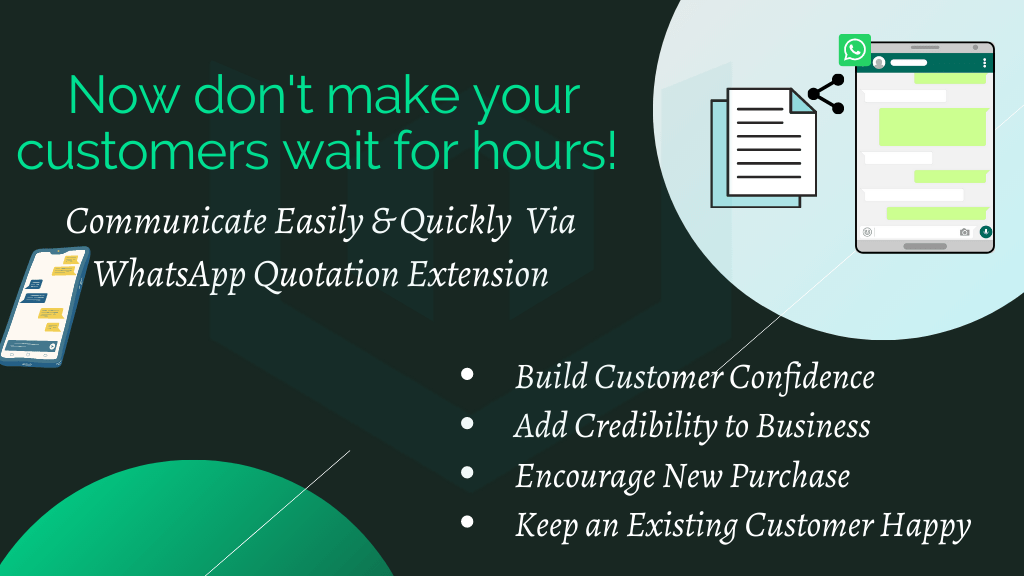 With the help of instant communication features, website admins and their visitors can communicate easily and quickly without having to wait for hours. Such features build confidence and add credibility to business since communication is the most crucial part of developing new business relationships. There's also an increasing move toward using company messaging for "conversational commerce": allowing sales and support staff to respond to product or service desk requests with rich, contextual communications that can, in turn, encourage a new purchase or keep an existing customer happy.
The Quote on WhatsApp Magento 2 extension also features easy-to-use backend options so that webmasters can easily configure and manage options they want to enable or disable using the plugin's dedicated backend dashboard. The extension can be enabled and disabled on product pages with just a single virtual button. Users can also edit button labels as per their need. This helps make the Magento 2 extension suitable for all business types whether your customers are looking for products or services or even both. The plugin can be managed to do the same.
The WhatsApp chat app is generating a lot of excitement in the corporate world right now, and with good cause. WhatsApp has rapidly become the world's most popular messaging app, with over a billion users worldwide. It's a fast, simple, and convenient way for family and friends to talk, send and receive documents, and have private, safe interactions at any time of day or night.
That is why forward-thinking companies around the world are optimistic about the WhatsApp platform's future. Developers will use the extension to generate innovative products that attract more customers in more locations around the world and result in more successful customer experiences.
To know more, visit https://store.webiators.com/magento-2-extensions/quote-on-whatsapp.html

Front End Demo || Back End Demo || User Guide
Top 3 Magento 2 WhatsApp Extension You Must Have in 2021
Share on WhatsApp Extension For Magento 2
Hit 5 Stars if you find this post helpful