Magento is a great platform for eCommerce sites and is a multipurpose solution for developing and designing e-commerce sites. Magento eCommerce themes let you establish your E-store effortlessly. Appearance is the very first thing you see anywhere and is also an important case for websites. Visually attractive websites tend to draw more visitors and bring more traffic to your website. To design your website visually attractive, Magento has some different themes to offer.
So, we have gathered the best Magento themes for your convenience.
—- Infinit – Multipurpose Responsive Magento 2 and 1 Theme
—- Porto | Ultimate Responsive Magento Theme
—- Shopper – Magento Theme, Responsive & Retina Ready
—- Midnight – Responsive Magento Theme
—- Market – Premium Responsive Magento 2 and 1.9 Store Theme
—- Market – Fluid Responsive Magento 2.3 MultiPurpose Theme
—- Fastest – Multipurpose Responsive Magento 2 and 1 Fashion Theme
—- Black&White – Responsive Magento 2.3.4 Theme
Choosing the right Magento 2 themes for website designing is a crucial part. Themes play an essential part in making your website appealing to visitors. No one wants to stay on a slow-loading page, and seeing boring graphs and images reduces the number of visitors. Therefore themes are essential, they allow you to add effects and designs of your choice with other exclusive features. Each theme has its own exclusive feature and which you can apply and make your site attractive.
Here we will describe the Infinit-Multipurpose responsive Magento 2 theme.
Infinit – Multipurpose Responsive Magento 2 and 1 Theme
Infinit multipurpose Magento 2 & Magento 1 is an excellent Magento theme with a great framework, a brilliant and good UX design, and graphics for clothing, bags, shoes, jewelry, men's & women's fashion, and style accessories. The infinit Magento theme has many great features to improve the website's appearance and performance.
The multipurpose responsive them has 20+ Amazing designs, Mega Menu, Ajax Infinite Scroll, Google rich snippets, Color Swatch, Webkul Marketplace Compatibility, Lookbook Professional Extension, Count Down Timer, Multi-Store & Multi-Language, Shop by brand, Quick View, Brand Logos, Google Web Fonts, Popup newsletter, Alerts, Mosaic, Grid, and Single Column View option. It is easy to set the theme and make a new eCommerce website within minutes.
SEO optimized Infinit Magento Theme creates an excellent eCommerce market.
Also Read: Best Available Magento Themes For 2022
Infinit Multipurpose Responsive Magento Features
As we mentioned above, the theme has a huge feature to offer which makes your website more competitive in the market and makes it attractive for website visitors. Let's discuss some main features:
Mega Menu
Infinit multipurpose responsive doesn't limit the menu or product showcase on the website. The theme allows showcasing a mega menu without any extra charge and effortlessly. You can showcase millions of product in the best way possible, which attracts more buyers and bring traffic to your e-commerce shop.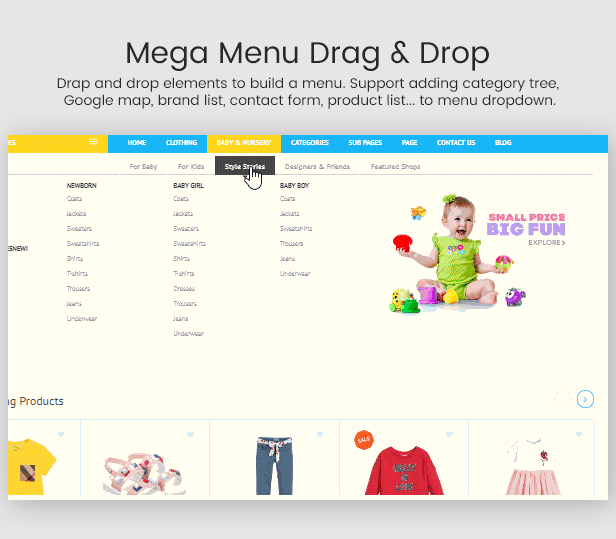 Count Down Timer
It allows the website owner to display a count-down timer without irritating the user visiting the website. You can set the timer for upcoming sales as you see many websites place it on the center of the website's page to draw the attention of customers. You can enable and set the timer according to your choice and it also allows you the flexibility to place it anywhere you want to.
You can design and customize the popups and alerts for your website. The theme allows you to place the alerts anywhere on the page you desire. Plus, you can always change the colors of popups and alerts to make it appealing to visitors. You can also add effects for alerts, it ultimately makes your website more pretty and attractive.
Multi-language
The responsive theme allows you to operate the website in any language you want. It also gives users the options of some popular and global languages for their convenience and improves their shopping experience.
Shop by Brand
The theme lets you categorize the products according to brands, price range, Style, etc. so, the customer always has the choice to shop from their favorite brand after applying filters of brands, price ranges, and many more like starting range from 500 rupees and maximum 1000 rupees. It curates for customers to shop without spending too much time deciding the brand, range, etc.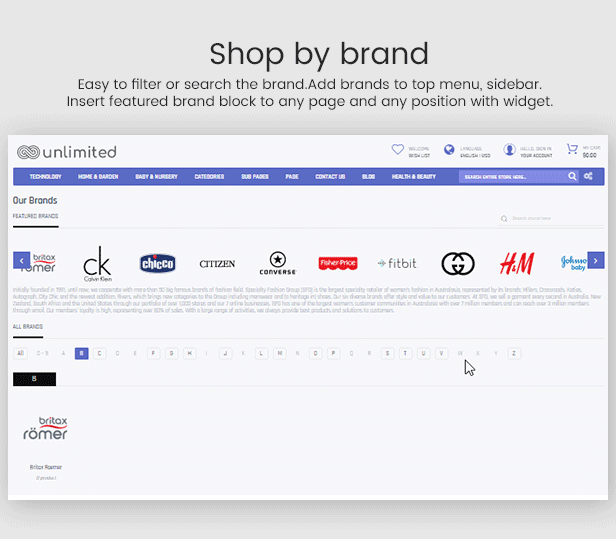 Intuitive Backend
It allows you to control the theme via a font-changer, skin-changer, and other settings. Helps Your Organize the Website Work More Effectively. When viewing a website launch or modifying, everyone's prior focus is on creating a pleasing frontend experience.
Also Read: Magento Theme Development – All Your Questions Answered
Product Labels
You can use product labels to show new or on-sale items. You can display Labels in product listings, product details, and a carousel. It allows you to display multiple labels for multiple products.
Final Words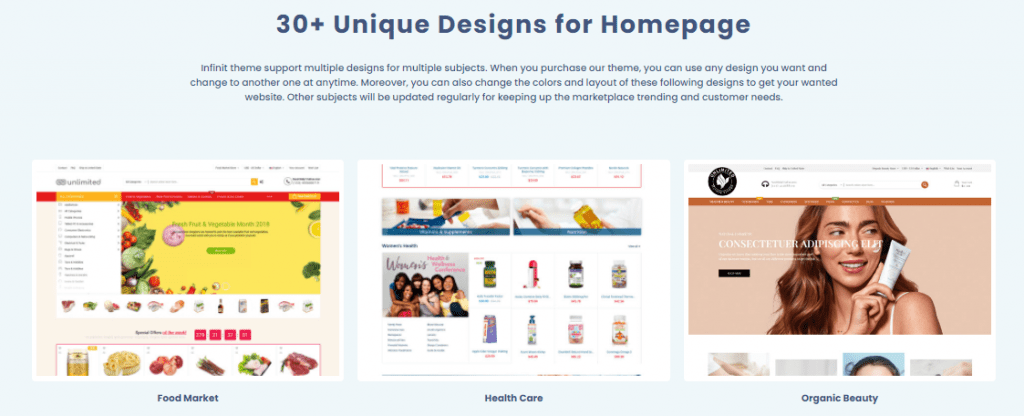 Infinit themes are updated regularly, to give you extra updated features, cost-free to give you a great experience of creating and updating an e-commerce store. Infinit Multipurpose Responsive is a great Magento 2 theme that is worth it. If you are searching for a tool and themes that will help you save money and time while creating the eCommerce store as you desire, consider it. It has a lot of features that improve customer experience, intuitive administrative interface, and compatibility with the latest technologies making Emarket trustworthy for every Magento merchant.
Hit 5 Stars if you find this post helpful