These days, every online business needs a website. There may be some exceptions if you have an offline presence that is strong enough to keep up with your ecommerce sales, but for the majority of companies this is probably not the case.
Here are five ecommerce website development trends that will help you stay ahead of the competition and make sure your company has the best online experience possible.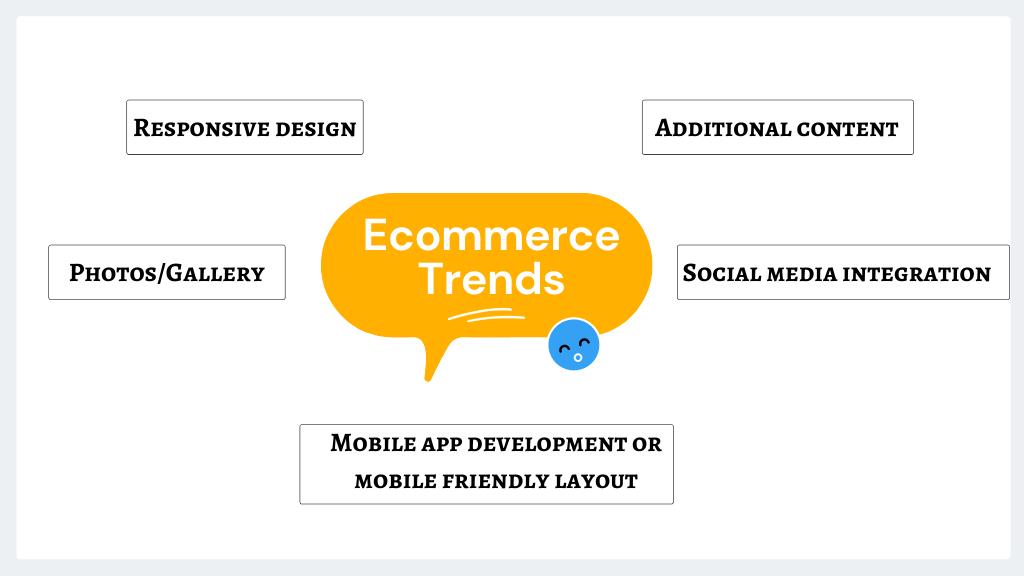 1) Responsive design: The average person spends 34% more time on websites that offer responsive designs. This means your site should be able to adjust to whatever size screen the user has available (desktop, smartphone, tablet).
2) Social media integration: Users want to interact, and they expect sites to be able to keep up. Offer your customers the opportunity to like, share, tweet, and/or pin any content you post on your site. You should also have a Facebook storefront where customers can easily create accounts and make purchases that way. But remember not to rely too much on social media, keeping your website active and updated with the help of an ecommerce website development company is equally important.
3) Mobile app development or mobile friendly layout: If you have products available in the Apple Store or Google Play Store it is important that you consider how mobile users will be looking at your site. Having an app for these stores is a great investment as it allows customers to check out on their smartphones and tablets. If you don't want a mobile app, make sure that the eCommerce website development company you hire has experience in building mobile-friendly sites.
4) Photography: As the world becomes more and more visual, it is important for your website to use some kind of photography. This may be as simple as using a stock photography site to find images that can be used in your site. Or you may want to hire a professional photographer or photo editor to provide you with a stunning image of your business. Remember that eCommerce website development is incomplete without high quality images and graphics.
5) Additional content: Don't forget about what's on the side of your website! A blog post or other type of extra content can help get customers engaged with your company and interested in what you have to offer. Consider posting interesting information about your industry, or something fun such as recipes or frequently asked questions.
E-commerce websites are growing rapidly. With so many sites popping up, it is important to have an ecommerce website development and growth strategy in place so that your business can stand out. These are just a few tips to help you create an ecommerce website that will engage customers and keep them coming back for more.
Take Breaks Between Learnings
There may be a lot of things that you are learning everyday. But if you try to gulp down a lot of information at once, it may do no good to you. You may forget what you have learnt or get all jumbled up with different information. Therefore, we recommend you to take small breaks while you are getting started to grasp all that you are learning.
These are some of our python development tips that will help you get started on your python development journey. 
What makes a website successful?
It all comes down to two main factors: having a good team of developers and being responsive to your customers. While these may seem simple, it can be challenging to accomplish them both at once depending on how complex your site is and how much traffic you see every day.
Let's face it, no company wants to invest time and money in creating a website if they don't get any returns. By keeping up with the rest of the competition, you will be able to give your company an advantage today and in the future. So, hire a professional eCommerce website development company and see the results.
To know more, visit https://webiators.com/
Explore More opportunities for your Magento 2 store at Webiators Store
Hit 5 Stars if you find this post helpful