First of all, Magento is the leading e-commerce platform in the world. It's intuitive and easy to use, and with MageBoom, Magento gets a huge collection of ready-made themes to make your website look amazing, and allows you to customize your site with advanced features.
That's not even half of it! Magento Website Development also has an impressive list of features that make running your website easy and hassle-free: marketing tools like email marketing subscriptions, shopping cart multipliers for customers who sign up before checkout, notification tools so customers know when their orders are received and shipped out by email; reporting tools so you can measure effectiveness; SEO best practices that will help you rank higher in Google… The list goes on.
Magento is also scalable. With its open-source code, you have the ability to customize your website to add features and remove ones that you won't be using. You can manage orders, view reports, run promotions and integrate with 3rd party apps/ integrations easily. Magento stores are also secure and encrypted, making it a safe place for your customer's sensitive information. Besides all of this, Magento's team of developers and engineers are constantly making new innovations to make the platform better for e-commerce businesses like yours.
If you're thinking about starting a new e-commerce site, then you might want to consider Magento. There's no shortage of options out there, but if you compare the features of Magento and other platforms, it becomes clear that Magento is one of the best for your needs.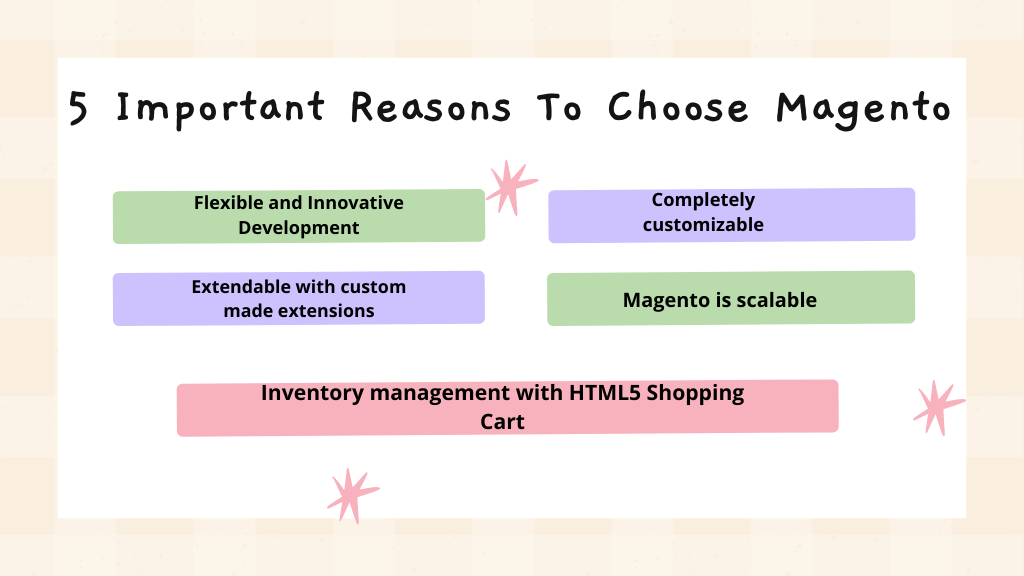 Magento is a powerful CRM and e-commerce platform that supports online stores with everything from customer checkout to inventory management. Along with all the usual modules like shopping cart, product search, and content management system (CMS), it also provides advanced features like multi-currency support which includes anything from direct translation to real-time conversion rates based on your location or preferred currency.
1 . Flexible and innovative development
Magento offers the best when it comes to web design. It's flexible enough that it can be used for a wide variety of sites, but innovative enough that it can also be used for solutions that are outside the box. And with so many open source developers out there contributing their own code, Magento is constantly improving.
2 . Completely customizable
Built with a unified architecture to easily integrate new technology as it becomes available, Magento provides everything from multi-language support to shipping modules and even integration with your current accounting software.
3. Extendable with custom made extensions
Magento is easy to customize, but the process is made even more efficient by a large number of third-party extension modules available. You'll need some JavaScript and CSS skills to get there, but once you do it's a piece of cake to add all kinds of functionality like an e-commerce shopping cart or multi-lingual support for your customers.
4. Inventory management with HTML5 Shopping Cart
With its extensive feature set and stability, Magento makes shopping online a breeze. And the entire checkout process is built around HTML5 – so you can safely use your existing code for this part of your website in addition to the usual PHP and MySQL on which most sites are built.
5. Magento is scalable
Like good wine, Magento improves with age. But unlike wine, Magento's scalability means it can be used for a wide variety of e-commerce sites, from the smallest business needs to the largest enterprise operations.
The bottom line: Don't build your website on a shoestring budget and do not rely on cheap options — choose Magento and you'll get premium quality that you can trust every step of the way.
Read more about Magento here – https://webiators.com/
Go through our Magento 2 store for more about extensions and services Magneto 2 Extensions
Hit 5 Stars if you find this post helpful