Magento 2 Order on WhatsApp Extension offers a simple solution for businesses with Magento stores that allows your customers to order products and services right from the WhatsApp application. The customer can choose to chat with a company representative, get prices and track the status of their order.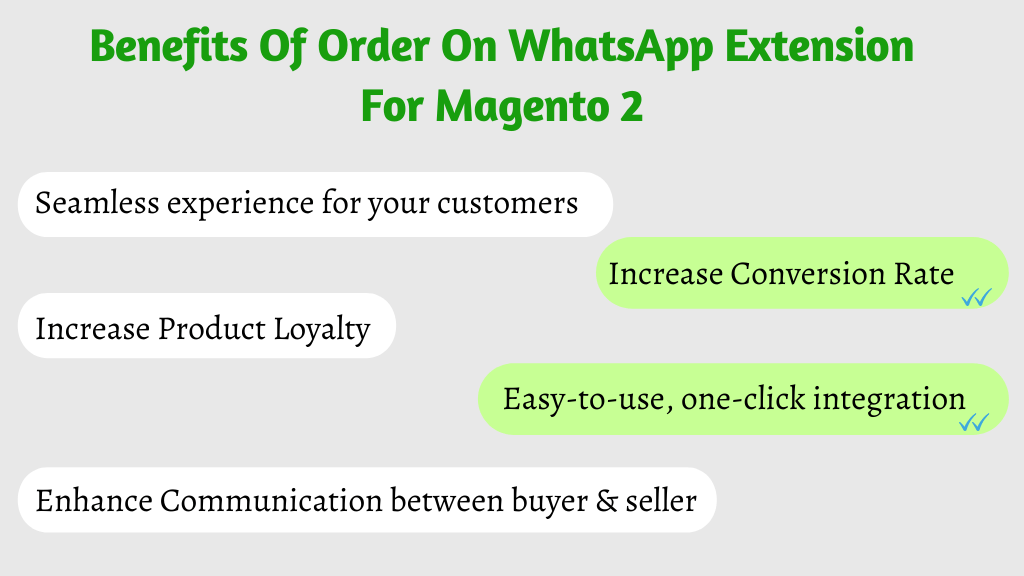 The customer has the opportunity to order products and services by sending them through WhatsApp. Everything else remains the same. They are given options for how they would like delivery, including when ordering products in bulk such as cosmetics and groceries. They will also be free to choose the payment option given by you.
Enable For Product Page: The Order on WhatsApp extension for Magento 2 offers your customers the opportunity to order products or services from your store directly from the product page.
Enable For Cart Page: This feature will be available for carts that have products that are eligible to be ordered through WhatsApp. This option is recommended when you want your customers to be able to see products and services that are related but do not want them demonstrated on a specific product page.
Send Product Information Via WhatsApp: You will have the possibility of sending product information through WhatsApp, such as name, price, description, and more. And You can also send images along with it when you choose to go for extension solutions like Chat on WhatsApp or the popular extension bundle called WhatsApp Combo for Magento 2.
Magento 2 Order on WhatsApp Extension Benefits:
Create a seamless experience for your customers by enabling them to order products and services through their preferred conversation platform, WhatsApp. You can also ensure that they are satisfied by offering them a range of delivery options and being able to communicate with them via this application. You will be able to provide your customers with an opportunity to select their own delivery address or collect the products from your store if they choose so.
The extension comes with an easy-to-use one-click integration, which makes it easy for you to connect your Magento store and mobile application. A custom WhatsApp application can be created upon request using the extension's backend settings. You will also benefit from a number of outstanding features.
This extension is available exclusively for Magento 2 stores, but unfortunately, this means that it doesn't support Magento 1 stores. The downloadable extension comes with amazing documentation which is structured and easy to understand. If you are a beginner who is looking to enter the world of Magento 2 extensions, this documentation will guide you through the process of installation. The paid extension lets you contact Webiators customer support team for any query or issue that arises during installation or functioning.
WhatsApp allows users to send and receive text messages, photos, videos, audio, documents, and even create group chats. With the help of Magento 2 Order on WhatsApp Extension, customers can order products and services directly from their WhatsApp and can even visit your store online.
To know more, visit https://webiators.com/
Explore More opportunities for your Magento 2 store at Webiators Store
Hit 5 Stars if you find this post helpful