Have you been seeing the Google Invisible Recaptcha pop up sporadically? It's an unassuming box that appears in a browser window and asks for verification. The question is often difficult to answer, but the objective is obvious: keep spammers at bay by making them solve a seemingly random puzzle. As a Magento developer, you are probably aware of the Google Invisible Recaptcha. This is an awesome tool that makes it easier for customers to authenticate themselves on your site and complete purchases.
Some background on how this works: The system generates a hidden reCAPTCHA image for your form fields and checks the input field values against those calculated from the image in Google's API server with client-side JavaScript code. If all of these checks pass then you can safely assume that either the user is human or they have access to your site and are not being impersonated.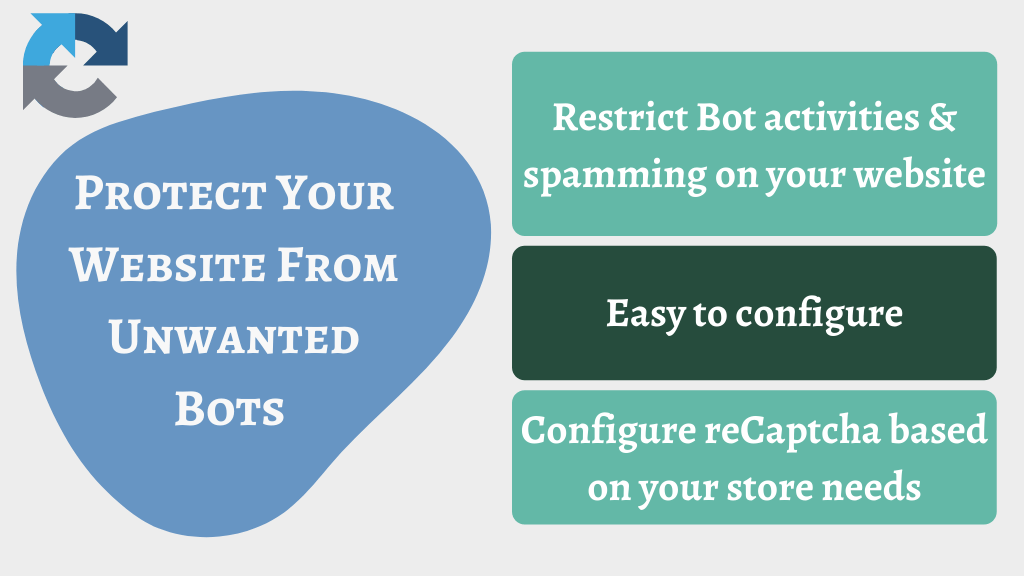 The Google Invisible Recaptcha Extension for Magento 2 is an easy to use premium extension by Webiators that assists you in safeguarding your Magento 2 store from bots, spam, and other spams. It provides the best security for your store with instant activation which requires no add codes after installation. With this extension, you can add an invisible recaptcha to contact form or checkout page and make sure that all users are human.
This Magento 2 Invisible Recaptcha Extension is very helpful for the reduction of sysmotic bots and spam traffic. It is very useful for minimizing your bounce rate as well as increasing your sales and improving your online credibility.
This Extension adds a protection layer to Magento 2 by stopping these malicious users from getting into your website in the first place. The spam protection is available at the form, checkout page, and registration process effectively. It provides a free extension to improve the overall user experience of visitors and customers on your store. It also helps you in the profitable running of your eCommerce store by providing an extra security layer to protect it from spammers/bots.
A simple piece of Javascript designed to defeat the CAPTCHA. With Google's Invisible Recaptcha, it becomes possible to create a 100% reliable, infallible bot spam-resistant form that works with any browser on any platform.
Since first release in late 2018, Google Invisible Recaptcha has been implemented into more than 4 million sites and has helped countless webmasters and site owners across the world protect their websites from spam. At the same time, thanks to its sophisticated containerization system, it protects search engine algorithms from automated script attacks.
Google Invisible Recaptcha is a new, revolutionary service that ensures your website is protected from malicious bots and spam. As you can see below, Invisible Recaptcha looks like a standard captcha system, but the word you type in the box isn't actually seen by humans. The service was created by Google to combat spam and continuously evolves with new technologies to make it an ever more effective tool.
Tools like Webiators Google Invisible Recaptcha Extension for Magento 2 offer a method of verifying that you are not a robot without interrupting your browsing experience. Essentially, it provides security for both the user and website owner by helping fight spam activity on all webpages that have online forms like sign in pages and contact forms. How does it work? Invisible Recaptcha operates invisibly in the background to let legitimate human users pass through while preventing automated spam submissions.
To know more, visit https://store.webiators.com/
Explore More opportunities for your Magento 2 store at Webiators Store
Hit 5 Stars if you find this post helpful