As we all know, Magento 2 is the latest version of the most popular eCommerce solution. One of its best features is that it's designed to offer a much smoother customer experience for many types of businesses. In order to make sure that customers get their products in time, you might want to consider an automated shipment extension and auto invoice extension for Magento 2.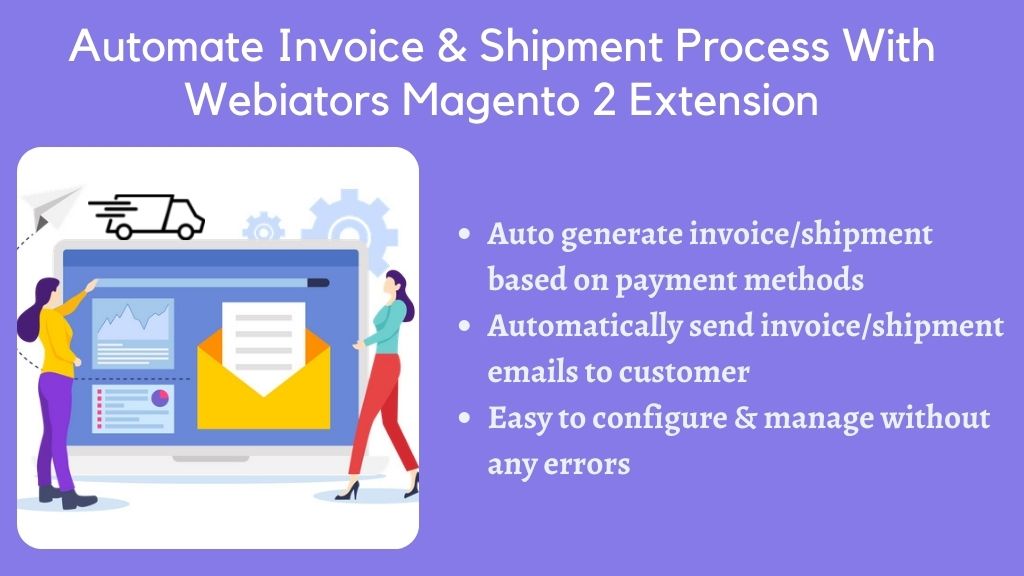 While it might seem like a fairly minor feature in comparison to things like layout customization or third-party integrations with platforms, this extension is essential if you're looking to optimize your shipping operations and automate customer invoices. Let's take a look at what this extension brings to the table, as well as some of the key things to look out for when shopping for them.
The Auto Invoice and Shipment Extension For Magento 2
One of the best things about the Webiators Magento 2 auto invoice and shipment extension is that it's extremely easy to use. Even though it's not as feature-rich as some other extensions, this is one of its biggest selling points – not everyone needs a fancy extension that can do everything under the sun.
This extension can be purchased directly from the Webiators Store. This means that you can log in to your Magento admin and install the extension in just a few clicks.
What this extension does is all about sending invoices and keeping track of shipments. If you're using a third-party shipping provider, then this feature will save you some time by automating processes throughout your system. Simply enter the delivery address, shipping carrier, and tracking number to have this extension automatically export the relevant information.
As for invoices, this extension gives you the ability to take custom extension services for input fields to be added to your invoices and ship them manually or automatically. With customization services, you can even do things like setting a default product for each invoice that any new order placed through your website will come with a default invoice attached (this is especially useful if you've got multiple product categories). If you've configured your Magento order shipping settings to use an external shipment tracking module, then this extension will automatically pull the last known tracking number and add it to the invoice as a courtesy.
This extension can also be used to automatically generate shipping charges for each product ordered, which means that you won't have to manually calculate shipping totals when working with automated shipments and invoices. As long as you have the appropriate settings in place for calculating shipping costs and choosing the right shipping carrier, then this extension is set to do all of the hard work for you.
Final Thoughts about Auto Invoice and Shipment Extension For Magento 2
It's important to remember that this extension is not a substitute for a third-party shipping platform or payment platform, or something similar. This extension simply automates some of the processes involved with order processing and shipping through your Magento eCommerce website so that you don't have to do all of the work yourself.
To know more, visit https://webiators.com/
Explore More opportunities for your Magento 2 store at Webiators Store
Hit 5 Stars if you find this post helpful