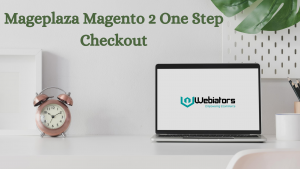 However, you know that Magenta 2 was displayed with a better checkout process than Magenta 1. By which payment and shipping these two methods are included by default.
But still, if viewed by a user, it seems like it is very complicated to fill a lot of their information in two pages under the original checkout process. Which takes too much time to complete. Because of this, many hasty or eager customers return from this page without completing the checkout process. 
To overcome this problem in the checkout process when shopping online shoppers, and to streamline the purchase, Megeplaza has provided a very simple and user friendly solution for your store in the form of one step checkout module.
If you do not know about one page checkout, first of all, you need to know what is the one-step checkout.
What is the One Step Checkout?
One Step Checkout is single most effective technology to give you all the necessary information like billing check, shipping and payment method on one page. In other words you can say that one step checkout means being able to display all complex steps on the same page.
If you want to also make yourself able to optimize the checkout page of your online store then Mageplaza Magento 2 One Step Checkout is the best solution to avoid checkout complexity.
This module can help you to save lots of time that customers spend on the checkout page and it also would be able to raise the conversion rate by 49%  as well as reduce the abandonment rate by 60%.
There are some important things related to Mageplaze Magento 2 One Step Checkout
Easy to install and customize
Optimized Checkout page
Compatible out-of-the-box with the 3rd-party modules
Supports nearly 100% Payment, Shipping methods
Allows/Supports Gift Wrap, Gift Message
Allows/supports leaving comments and setting delivery time
Some Key benefits of Magento 2 One Step Checkout Extension by Mageplaza:
Compatibility
One Step Checkout Extension is completely compatible with Magento Open Source (Community) and Magento Commerce (Enterprise Edition) 2.2.x, 2.3.x. It is fully and well compatible out-of-box with 99% of the third extensions such as shipping/payment providers, themes credit module, loyalty extensions and more.
Customization
This One Step Checkout Module allows the store administrator to edit the checkout page style, layout and color from the backend without modifying any code. That's why changing the specific configuration to display a color or checkout layout for the store owner is very easy.
Google Address Suggestion
Mageplaza Magento 2 One Step Checkout Extension is integrated with Google Map Suggestion. With the help of which, instead of typing a few characters related to any specific address in the checkout page, by typing a few characters related to it, Google shows the suggestions with full details so that the customer needs to select an option instead of typing the entire address. And it also saves time.
If there is any problem to integrate then you can also contact us. We offer the best services to optimize the Magento online stores by providing the support of higher Magento experts.
Hit 5 Stars if you find this post helpful