One of the most common questions we hear is "how do I hire Shopify experts?" It's a difficult question as there are many platforms and services that offer Shopify expertise. To make it easier we've compiled a list of 10 steps to help you find the best team for your project and get them on board as soon as possible.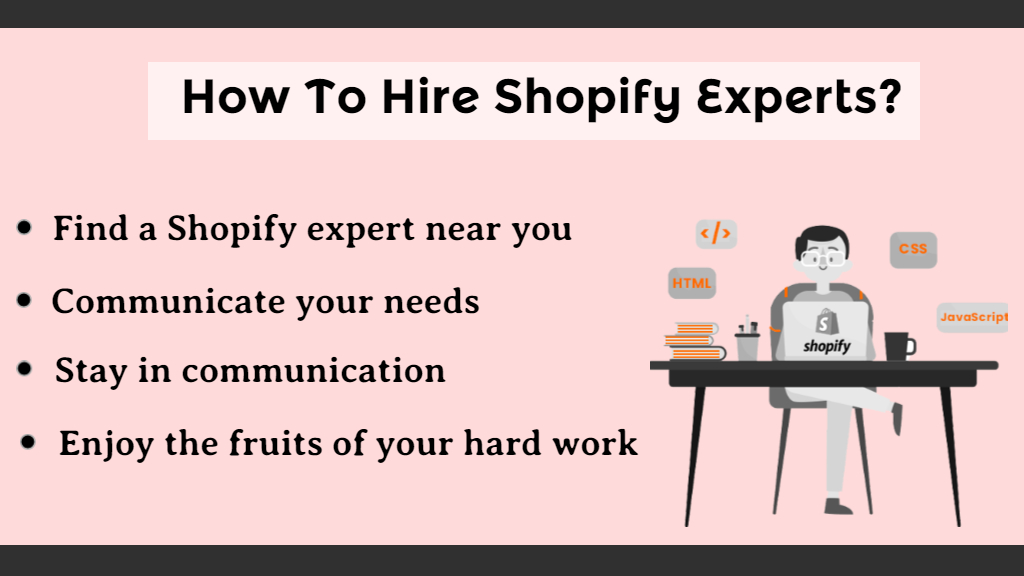 1) Find a Shopify expert near you – Experts don't have to be in major cities or even states away: there are plenty of remote experts and agencies with high-quality Shopify services available.
2) Communicate your needs – if you're not sure what exactly you need, share your idea/sketch/concept with potential candidates so they can tailor their skillset in the interview process.
3) Know the qualifications – we can't stress this one enough: it's vital that potential Shopify experts know exactly what your project is about and they are not just a group of random people you found on LinkedIn.
4) Shortlist – you don't have to know all of these people in real life, but do ask about their experience and ask them if they can help you with your project. A shortlist will help you make informed decisions on whether or not to move forward.
5) Get a quote – once the right candidate or an agency has been shortlisted, ask for a quote and be prepared for some tough questions, including payment terms.
6) Get to work – once you've agreed to terms and payment terms, start work as soon as possible. You will need to pay a fee for the first month of platform usage and a signup fee for the website.
7) Follow up – make sure you communicate regularly with your Shopify experts so they can progress your project on time. Good communication is crucial.
8) Stay in communication – it's easy to get lost without communication, but make sure you talk often about what's happening with the website. You should also be able to easily get hold of them via social media… or email or phone if it's more convenient.
9) Get estimates – look for bugs and problems that have been found and put a price on them, so you know how much they're costing you.
10) Enjoy the fruits of your hard work – once your project is complete, make sure to send it a thank-you email along with photos of the finished product to show your appreciation.
Amid the frenzy of online shopping, some people have been left with a shortage of qualified candidates. Hiring Shopify experts can help solve this problem.
Shopify is a powerful web development and management platform that allows you to start an online store by connecting your own domain and hosting. You'll also need someone who's familiar with its features in order to keep everything running smoothly for you while you focus on making sales, managing reputation, and developing customer relationships. Getting a Shopify expert can help fill these needs if your company is experiencing any difficulties in these areas.
For more information, visit https://webiators.com/
Hit 5 Stars if you find this post helpful