SEO marketing is usually considered the balance between technical and human techniques. It's an integral part of a business's digital marketing strategy when it comes to Google search ranking. 
The world of SEO can be divided into several aspects, and 2 main elements refer to keyword ranking and website optimization. 
When more advanced technologies are applied to business competitions, SEO has become a lot more than merely scattering a site with specific keywords or phrases. 
That's why in this post, we delve into the essential role of SEO and how to generate more traffic using Magento 2 SEO Suite from Mageplaza. 
What is SEO?
SEO stands for Search Engine Optimization, which is the process of improving the quality and quantity of website traffic from search engines. 
If pay-per-click or paid campaigns generate direct or paid traffic, then SEO targets unpaid traffic, typically known as organic/ natural results from popular search engines, especially on Google.
How does SEO work?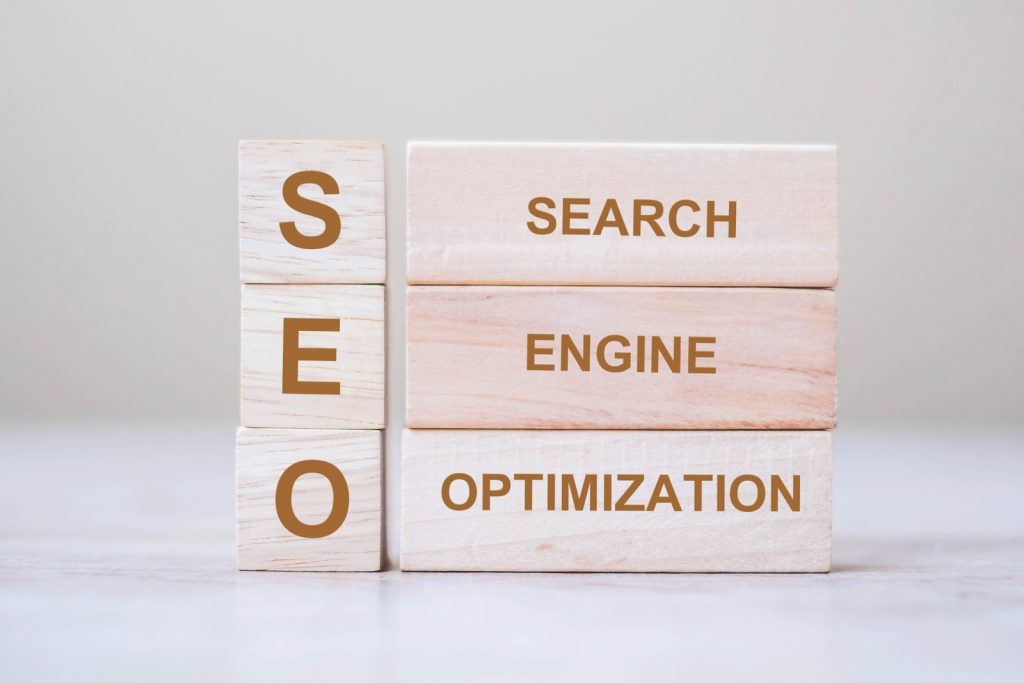 SEO contains so many aspects, both technical and human touchpoints. Engaging content is just one piece of the big picture if you want to generate traffic and improve your web ranking as well.  
In essence, SEO tactics aim at 2 primary factors that Google uses to rank for each result, including SEO on-page and SEO off-page. 
On-page SEO optimization: On-site elements that merchants can control and improve. They go beyond just digital content marketing to the deeper levels of a site's HTML. Some typical on-page SEO tactics are Title Tag, Meta Description, Internal links, sub-headings, etc.
Off-page SEO optimization: Off-page elements that you do not have direct control but can still impact your web ranking and number of traffic, for instance, social signals (likes or shares), the number and quality of your backlinks, etc
Last but not least, for sustainable results, the core of an SEO strategy is content. The more quality and relevant content you have on your site, the higher rank and visibility you will get on the search engine results pages. 
Why is SEO so crucial for eCommerce businesses?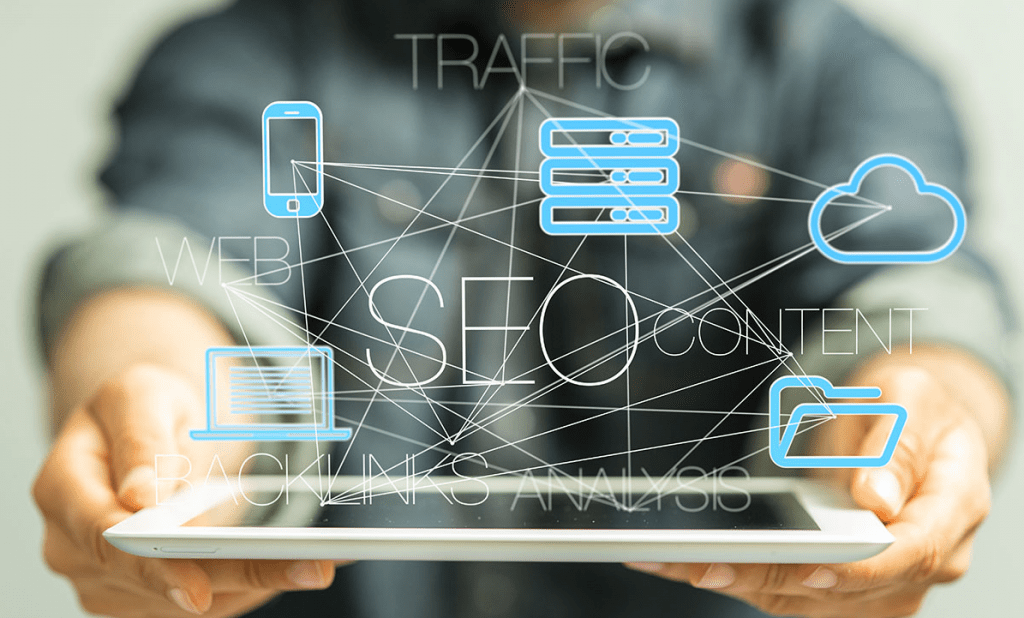 Among 5 billion searches a day processed by Google apparently have your potential customers who are looking for their wanted products and services. The biggest question is that they will find you at the top of the SERP or your competitors?
The click rate for the top 3 positions on the search engine result page: 
The first position in Google gets a 28.5% click rate (Source: Sistrix)
The second position has an average click rate is 15.7% (Source: Sixtrix)
The third position is 11% (Source: Sixtrix)
One the first page alone, the top 5 organic results account for 67.60% of the total clicks (Source: Zero Limit Web)
In addition to these statistics, the next figure will surprise you. The worst click rate is founded on commercial searches with Google Shopping (13.7%) and Google Ads (18.8%) (Source: Sixtrix)
Back to the topic, it comes as no surprise that SEO is indispensable when it's the key to increase the quality of an eCommerce site by making it more user-friendly, faster-loading speed, and easier to navigate.  
To be more specific, the most crucial SEO tasks do to merchant's online store:
Identify what target audience are searching for on the Internet and the relations between their wanted searching results to your products and services via Google Analytics
Generate relevant and user-friendly content that gives these visitors valuable information. Furthermore, Improve the user experience and usability of an e-store
Give the right signals to search engine algorithms using numerous SEO techniques. Then, your business can be put at the top of search results, implying to customers the reputation of your brand 
In conclusion, SEO increases a brand's visibility, usability, and credibility, all contributing significantly to website traffic. 
Are SEO extensions worth your investment?
It's no exaggeration to say that big brands are ready to spend thousands or even millions of dollars per year on SEO in order to dominate the search engine results pages (SERPs). 
However, it doesn't mean that mid-sized or smaller businesses are unable to compete, especially with the help of an SEO module or SEO service agency. 
First, let's talk about the pricing of SEO services in today's market. The cost of an SEO service varies based on what's included and the goal of the service user, particularly (Source: WebFX)
Most SEO projects in 2020 cost between $750 – $2.000/ month depending on the scope of the project 
A one-time project will fall between $5.000 – $30.000/ project
Hourly rates for consultants range from $80 – $200/ hour
As you can see, the price for hiring an in-house specialist or an SEO company is a huge barrier for small and medium eCommerce businesses. Furthermore, not any SEO strategy brings back instant results but requires long-run maintenance. 
For entrepreneurs who are running a startup or small business with a shoestring budget, hiring an SEO services agency might not be an optimal choice. 
Instead of expensive SEO services, online merchants can consider a one-time payment extension for their e-stores. Of course, it's indeed a huge mistake to go for cheap and quick offers, where "black hat" methods might be used to the eventual detriment of your reputation. 
Considering cooperating with well-known and famous extension builders will give you helpful support and a strong guarantee. And one of the most well-known SEO solutions for Magento 2 stores in the market is the Mageplaza SEO All in One (FREE). 
How can Magento 2 SEO All in One increase your e-store traffic?
Automatically add Rich Snippet with no configuration 
In essence, Rich Snippets refer to the structured data markup that site operators add to their HTML. This way enables search engines to understand better the information contained on a web page. 
With a well-structured and informative snippet (schema structured data), online merchants can:
Enhance the browsing experience of shoppers by showcasing all the critical information right into the search result. Shoppers do not necessarily click on the link to see the whole content but can have a bird's eye view of the site or store's item 
Give out eye-catching search results by showing more crucial details of a post like rating, review, price, stock status, even suggested extension. This makes your site more trustworthy with a professional look, hence increasing the potential CTR
Interpret your site content as well as the topic to Google Bots in the manner of clarity and comprehension. A site with well-informed Schema Structured Data will for sure get a higher rank than the others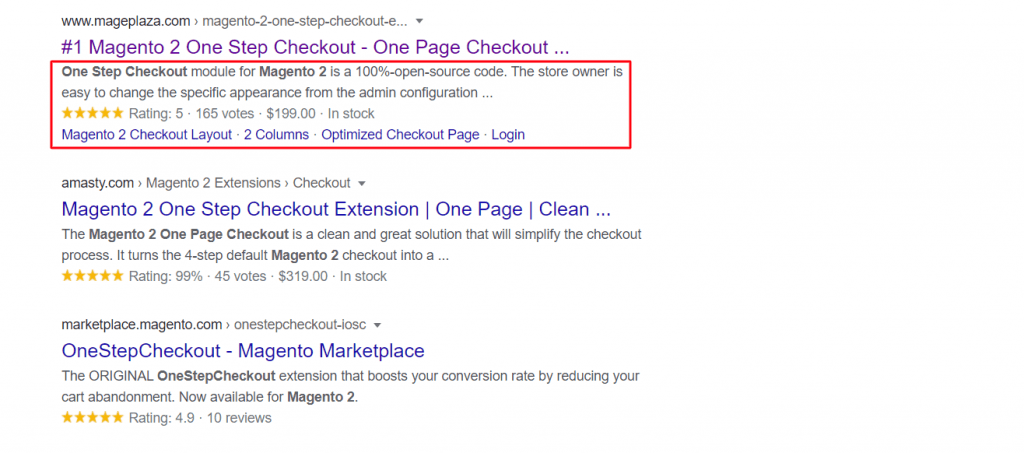 Magento 2 SEO All in One allows merchants to add schema structured data (Rich Snippet) to their website effortlessly without configuration. The best thing is that this process is automated. 
Robust SEO metadata template rules 
SEO metadata is things that show up on the search engine result pages (SERPs) when a site comes up for specific queries. It contains the web title as well as the meta description (the text block below the title).
The site owner can customize the Metadata to their reference, but this process will require much time and effort, especially for non-savvy SEO merchants. The next feature of Magento 2 SEO extension focuses on controlling the Metadata to boost the SEO performance of Magento 2.  
The Metadata Template Rules feature works on 4 pages, including Products, Categories, Pages, and Layered Navigation. Its rules are available for 3 main components of a page's Metadata:
Meta Title Template
Meta Description Template
Meta Keywords Template 
This feature's power lies in the fact that you can set the rules and apply them for a large number of web pages without wasting time setting the Metadata for each page. 
For instance, you can set a Meta Title Template for the Product pages is

As a result, the Meta Title shown for the Atlas will be: 
"Atlas Fitness Tank White Adidas for special price $49 in the Tanks category."
Powerful SEO analytics and report
Mageplaza SEO All in One provides its users with an outstanding report feature that helps merchants deal with 4 significant problems in SEO, including:
Duplicate content issues: Auto-prevent duplicate content to boost the SEO performance by adding Canonical URL Meta at the backend
Missing metadata issues
Low word count pages
404 pages: The extension will automatically redirect the visitors from the 404 pages to another page (or the homepage)
With the Mageplaza smart reporting system's help, merchants can reduce the traffic loss and negative impact on the search ranking of your eCommerce website.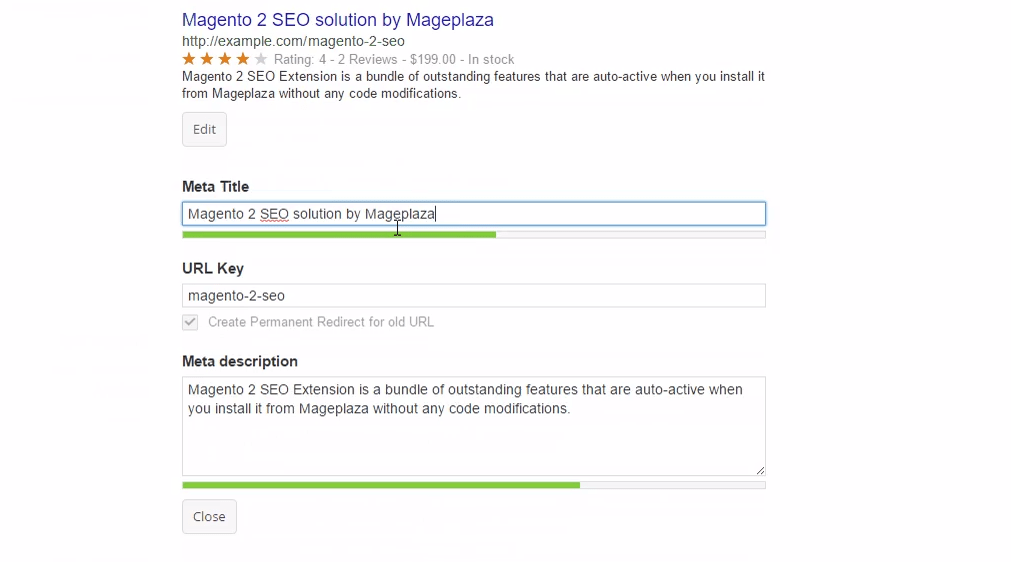 The best part is that Magento 2 merchants can preview the Google search results (Rick snippets) right at the store backend before submitting data to the search engine. 
Each component of the Metadata will be supported with an evaluation bar, which estimates the performance of the current Meta Title, Meta description with URL key and main keyword.
The Analytics section at the bottom will let store admins know their existing problems to have probable changes that are best for SEO performance. 
Support the complete SEO checklist 
Apart from these fantastic features above, the Magento 2 SEO All in One extension offers its users the Checklist feature, which lists all the necessary actions and steps needed to be done for optimized SEO performance.
The Checklist feature goes with 3 kinds of notifications to support merchants on optimizing their page to get a higher rank. They are: 
Success: Announce the actions that are accomplished successfully
Error: This notification appears when the action is wrong 
Warning: Announce merchants when the action is missing or has not optimized for SEO effectiveness
Most importantly, the checklist will notify you which actions are wrong and how to improve them with particular directions to the configuration page. This helps boost the whole SEO efficiency and effectiveness. 
Thanks to the comprehensive list of SEO tasks, the extension helps online merchants ensure the SEO process is always on the right path with the best performance. 
Available Hreflang tag on eCommerce sites
For those who don't know, "Hreflang tags" are things that help search engines define the version of your content to show to suitable audience groups.
This feature becomes more important than ever when Google has moved away from relying on ccTLDs as the primary location indicator. 
Mageplaza SEO Suite module allows merchants to optimize these tags. So, when your potential customers search in that language, your page with relevant content will rank higher. 
The bottom line!
Before closing this post, our last words are that an SEO strategy focusing only on-page optimization without good content integration will never work. 
Content is always king, and SEO a website with informative content related to target groups can give your business an extra boost in the long run.
Hit 5 Stars if you find this post helpful