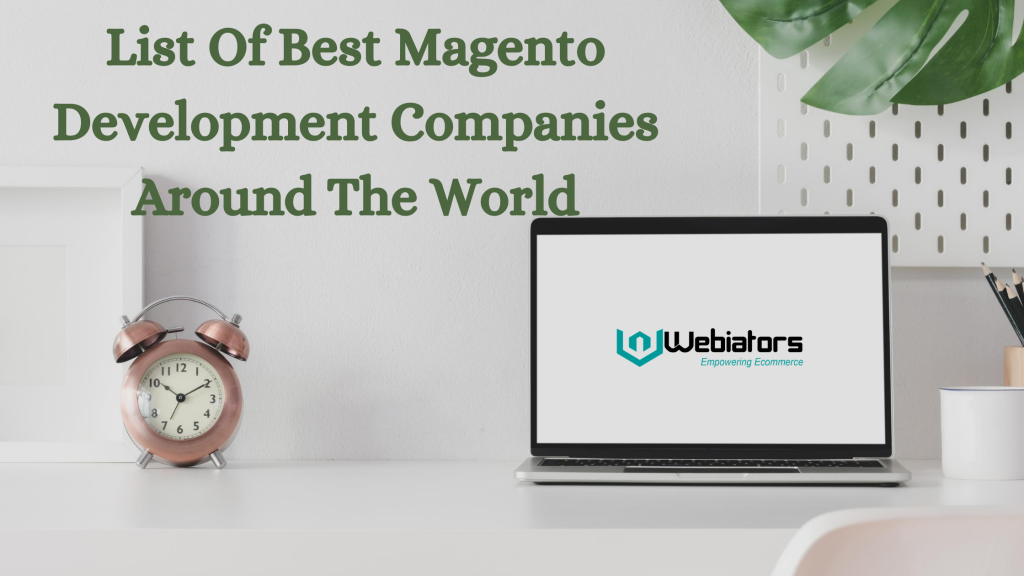 Magento Developers have expertise in building and keeping up eCommerce sites utilizing Magento 1x and 2x structures. The obligations of a Magento Developer incorporate gathering with the plan group, creating Magento modules, coding the formats, investigating interface issues, testing site execution, and refreshing security patches. Keeping all the necessary elements and skills in mind here we are presenting you a list of Best Magento Development Companies from around the world so as to bring your website in the most appropriate and trustworthy hands:
Webiators
Webiators being one of the best magento development companies who builds and maintain eCommerce websites. As a Magento Developer, Webiators takes the responsibility for liaising with the design team, setting up Magento 1x and 2x sites, building modules and customizing extensions, testing the performance of each site, and maintaining security and feature updates after the installation is complete.
Webiators' skills can be summed up in following points:
Meeting with the design team to discuss the needs of the company.
Building and configuring Magento 1x and 2x eCommerce websites.
Coding of the Magento templates.
Developing Magento modules in PHP using best practices.
Designing themes and interfaces.
Setting performance tasks and goals.
Troubleshooting integration issues.
Updating website features and security patches.
Lets Not Believe The Theory, But Hear The Experiences Of Their Clients
Stewart Hutton
We have recently completed a migration from Magento 1 to Magento 2 with the help of the Yogesh and Webiators Team. They also helped us in making significant changes at our site including implementing a new theme, integrating Sage Accounting etc.
Felix de Villiers
Thanks for your help and support for this website. We are extremely Happy with the results.
Sunday Daniels
I Appreciate Webiators for this Amazing, responsive, mobile-friendly websites they have developed for us. It's a lovely Magento website and they deliver very fast or professionally. Thanks, Webiators team, we are happy with your work.
Jonathan Frohlinger
To our friends and partners at Webiators, we just can Thank you enough in terms of consulting and helping us to Converts our Visitors to Customers.
Videos of all the above clients speaking about their experience at Webiators is available at their Website.
BSS Commerce
BSS Commerce stands up for Magento,obsessing drive. Thousands of hours, work the best out of creativity and couldn't have a more sales-oriented mindset investing in more than 120+ best extensions to patch holes of the current Ecommerce platform. They also yearn to offer solutions as a whole in a craving manner.Dedicated technical and business specialists would consult to build your selling sites and they do customize and upgrade your current sites to most professional ones.Experienced certificated Magento specialists. Only aim for your best success solution. Your success is also their success, we're meant to print BSS Commerce name in the ecommerce globe.
Their certified developers with extensive extension help you to build any Magento Community & Enterprise site from scratch. They keep your online store up-to-date, secure with seamless performance and handle any appearing issues. Their experts will consult and offer a complete end-to-end solution to upgrade the current Magento version to the latest one. You can completely be assured of their service as they are a Magento Technology Partner. their Magento senior developers with 10 years of experience will walk with you from the very start to your launching day, and even continue supporting you long after, to give you the best Magento development service.
Mageplaza
A dedicated leading extension builder for Magento 2 where you can find any e-commerce solutions for your online business with great support and officially qualified module quality. Mageplaza is one of the top Magento Extension Providers and custom development service providers. With over four years of comprehensive experience in Magento Module Development, we are committed to provide the highest quality extensions and services for our E-business customers.
With all their extensions, you only pay one time for life-time use. Additionally, all Mageplaza extensions are definitely a no-risk investment with their policies including 60-day money back guarantee, 1-year free support and life-time free update. Besides, Mageplaza will continue to improve their products and come up with new ideas to provide the most effective, the most economical and the best E-business solutions to their clients.
Plumrocket Inc.
Plumrocket Inc. is a web development company providing a full range of web design and magento services. We are a New York based company that helps brands succeed in the field of e-commerce. Plumrocket offers high-quality web-design packages, e-commerce website development, custom website design and intranet web solutions.
Plumrocket Inc. is a high quality Magento Development and Web Design company from New York, USA. Established in 2008, Plumrocket has been in a unique position to provide unparalleled customer support. The combination of our services, pricing, friendly way of conducting business, and compassionate corporate philosophy is very unique in today's business world.
Wrapping Up
Depending on how experienced and at which stage a developer is, a Magento developer's daily tasks, and responsibilities can differ wildly. To go with the rapid flow of changing expectations of customers, it is time for the businesses to alter their paths. These Best Magento Development Companies has got your back to bring the next level business in this digital world.
Hit 5 Stars if you find this post helpful