Over the course of a few years, the eCommerce industry has gone under historic growth & transformation. Whether it's B2B or B2C, customer demands change, but the one thing they always want is an excellent customer experience. And to maintain long-term success, the community has to continually adjust to customer & business behavior. Noting that, Magento Market is also transforming. Following the pre-announcement of the Product Subscription Model for Magento Marketplace by Adobe, Webiators is also conjoining with other prominent leaders of Magento Extensions in the market.
The transformation is not only confined to the pricing model but to transform our customer service to customer success & make our customers satisfied to reach their target goals.
Webiators is launching Product Subscription Model for Magento Extensions. From February 2022, we are going to implement the transformation announced by @Adobe & @theigorgorin

Know what benefits are grant to the customers- https://t.co/KGPILwaXvi#adobe #productsubscription pic.twitter.com/OinOAre9ej

— Webiators Technologies PVT. LTD. (@webiators) October 14, 2021
Creating seamless experiences takes a lot of effort and dedication to the end goal. Though we assure you that we'll maintain & enhance our products' codebase quality, compatibility, and level of after support.
What you can expect with our Subscription model:
Lifetime access to the original codebase
The product subscription includes full support service & updates during the subscription tenure.
Availability of all new Magento versions
Availability of new features & functionalities for the product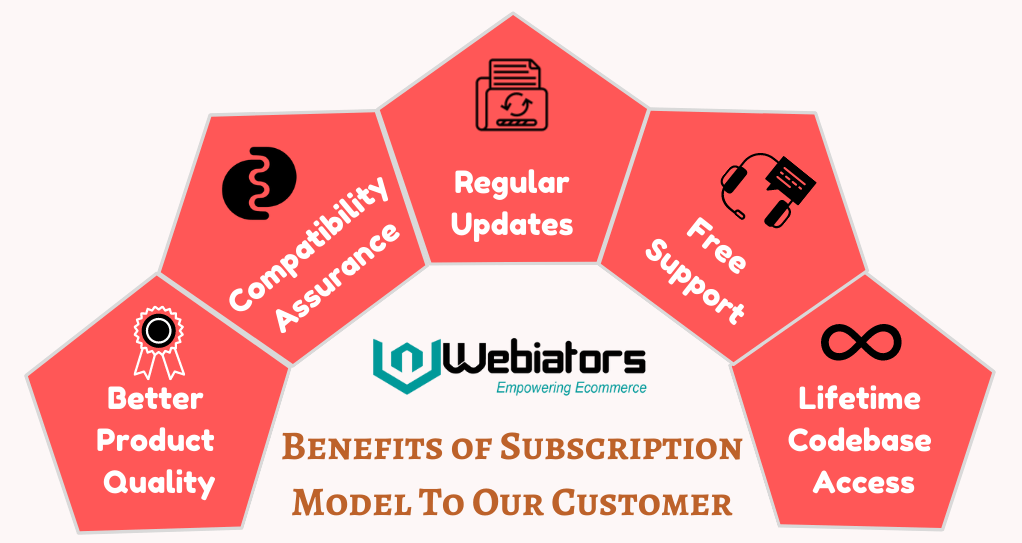 We believe that this transformation will lead the Magento ecosystem to greater heights & opportunities. There is a lot to plan out for this subscription & would appreciate your feedback on this.
More Information Coming Soon! Stay Tuned!
Hit 5 Stars if you find this post helpful