When you go to a website that offers a shopping cart, as you're about to check out, all you need to do is click on the WhatsApp share button. This will open up the chat interface on your phone and allow your friends in WhatsApp to view what's in your shopping cart. This is a neat feature that some online shopping apps are starting to implement. It's very useful if you're planning to buy a gift for someone and want to know if they like that gift. You can have your friends on WhatsApp tell you whether they like the gift or not.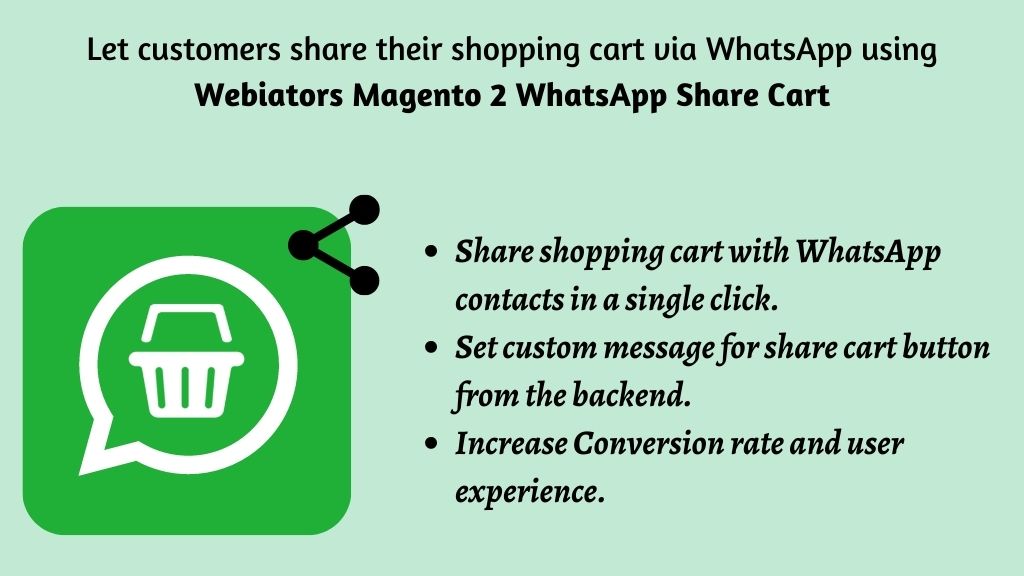 Share Cart on WhatsApp Extension is a fun and easy way to share what you're shopping for with your friends and family. So here's how simple it is:
When you find something interesting on a product page, click on the WhatsApp share button using the Share Cart on WhatsApp extension; this will open up the chat interface on your phone. Then, select people to message by clicking on the small icons (add an emoji to your message) and type out what you want to say. Once you're done, click the blue WhatsApp icon in the top-right corner. Your message will appear as an image in every chat in which you sent it.
From here, friends and family can click on the image and head straight to your website and check out from there. They can add your product to their cart or wish list or even buy it outright without having to leave WhatsApp!
WhatsApp users who have received this message are also able to click on any products shown within it for more information about the specific product.
You might have noticed that WhatsApp is being used by many Magento developers and Webiators have in fact developed an easy extension for this purpose. Share Cart on WhatsApp extension allows you to share the items from your cart with other WhatsApp users, who may then add these items to their own carts. This could be incredibly useful for those who want to buy from different stores but find it difficult due to time constraints.
Sharing the shopping cart will not only save time but also allow users to take advantage of any special deals.
Benefits of Share Cart on WhatsApp extension for Magento 2:
This sharing capability can be very beneficial for both brands and customers. For example, if your product page has a "share on WhatsApp" button, shoppers won't have to type out the entire URL link for other shoppers. This will reduce errors and make it easier for customers to share links with friends. This could even go a step further and allow users to create a public/private shopping group where no one can add items to the cart unless invited. This would make it harder for someone to purchase the products and then leave, without the knowledge of others.
What's in it for the brands:
It's not just the WhatsApp users who will benefit from this feature; brands as well will reap great benefits. In fact, a study has shown that WhatsApp enjoys a higher conversion ratio than other Social Media platforms. With this new feature, you can be sure to get more traffic as more and more people start using this platform for their eCommerce needs. Additionally, the Share Cart on WhatsApp extension provides another layer of security for both buyers and sellers.
To know more, visit https://webiators.com/
Explore More opportunities for your Magento 2 store at Webiators Store
Hit 5 Stars if you find this post helpful