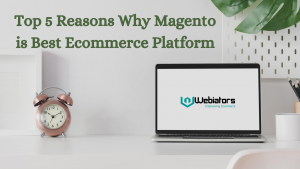 Ecommerce has become a necessity for all business categories. These days online business owners want an effective eCommerce solution that gives scalability, extensibility, and flexibility as well. Magento is a popular open-source eCommerce platform that offers online sellers a flexible shopping cart system and the total control of the look and functionality of their online store. Do you need an eCommerce site that is equipped with world-class features to engage audience 24*7? If yes, then you should prefer a Magento platform for building your website and appoint a good Magento development company.
1 Open Source Platform
Magento is an open-source community platform that is One of the best reasons to choose the Magento e-commerce platform. As an open-source platform, Magento is extremely versatile, meaning it can be adjusted to fit just about any sort of needs that developers, vendors or other end users might have. On top of all that, it comes with more reliable performance and better security. They have their own large community that is active and supports their own developer and user community.
2 Responsiveness
The Magento developed and designed online stores are mobile responsive as it is integrated with the HTML 5. This gives awesome experience on any of the browsing devices to the users. The E-Commerce store owners can take the development services from the Magento Development Company for a seamless shopping experience on all handheld devices.
3 Third Party Integration
The platform comes with many third-party extensions, integrations and components, which makes it easier to deploy new versions, upgrade the platform and develop new functionalities.
According to the latest research, Magento has around about 2, 50, 000 merchants worldwide and good integrations with third parties, such as PayPal and eBay. In addition, Magento has connections that you actually require for easy order management.
4 Search Engine Friendly
Magento is an SEO-friendly platform that comes with lots of features including sitemaps, positioning layer, URL structure, URL rewrites, tags, metadata and descriptions for products and categories. It has the most flexible API which allows its users to integrate any kind of applications as well as plugins of your desire. Similar to web analytics, tracking & shipping and payment gateways. Feel free to add app of your choice to your Magento website without wasting a single second of your quality time.
5 Great Community
This open-source eCommerce platform has a huge community of dedicated developers, vendors, designers, programmers, bloggers, project managers, product managers, CEOs who help you by providing proper guidelines and fixes for that particular issue. In other words, we can say that Magento's community provides essential fuel for improvements. It is one of the biggest reasons why Magento is the Best eCommerce platform.
If you want to know more about Magento Development or if you want to create a magento based website, please feel free to contact us.
Hit 5 Stars if you find this post helpful