No matter what the business is, developing an eCommerce website is crucial for any business these days because it provides a host of advantages. Therefore, it is a must to choose the correct platform for your business. For any business there is a need for a flexible, scalable and reliable eCommerce website that can help in running a smooth business. Before getting started with any eCommerce store, you need to ensure that the platform that you are choosing is appropriate for what your business needs. For your customers, you also need to think about the security that your preferred platform offers. For reliability, scalability and security you can get all of this on a single platform, That is Magento.
Magento has been the preferred and most loved platform for merchants because it offers numerous functionalities and other features that other platforms are limited to. Though, Magento in itself offers a lot of functions and features to its platform users. But, you can definitely add some extensions to improve the performance of your Magento store. But, if you are just getting started with your eCommerce journey, understanding all this may be a little difficult for you. That is when Magento development companies come into play. Let's understand why you need expert Magento developers from top Magento development companies.
Does Your Business Need a Magento Development Company
Understanding different needs of what a business requires when it comes to eCommerce can be difficult for many. Every business is different and the objectives for any business are different from each other. Therefore, it is crucial to understand what features and functionalities a merchant should offer in their eCommerce store. That's why you need a Magento development company. A Magento development company can help you with many things including:
Read: Magento Theme Development – All Your Questions Answered
Analysis of Business
A Magento development company begins by performing a deep analysis of your business and its objectives. In this step, the professionals thoroughly understand what kind of eCommerce website does your business need. After understanding what your business offers, who are your target customers, the need for your offerings, everything is analysed.
Strategy Planning
After thorough analysis of your business and its goals, a specific strategy is planned. This strategy involves how to target your customers, what you should offer that can improve your revenue, how you can improve the performance of your Magento store, extensions and more.
Implementation of Strategies
When these strategies are decided, then it is the time to implement the same. The team starts working on everything based on what your business requires. This involves teamwork from front end developers, back end developers, designers, project managers and more.
Quick Installation and Support
At last, the needed extensions are added to your Magento store and the eCommerce store is ready for a test run. After performing a test run and fixing of any bugs (in case) the store is offered to the merchants ready to use.
Top Magento Development Companies For the Year 2022
Now out of so many Magento development companies, which one do you need to opt for? This decision can be difficult. But you need to understand everything related to what your business needs to grow and then you can choose the company successfully. Below mentioned are a few companies that you can choose from to get the best Magento related services: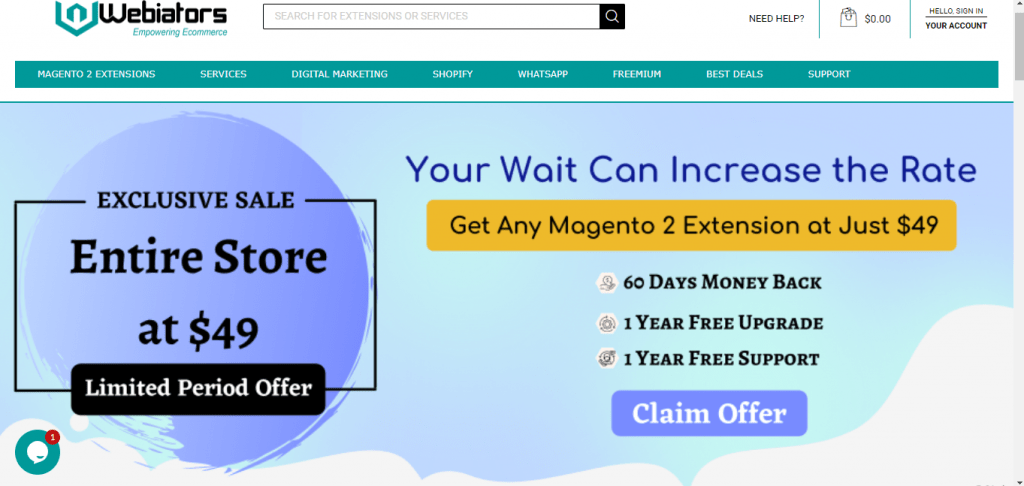 Webiators has been in the business for more than 5 years now with around 600+ successful projects. The company empowers enterprises, small to mid scale business, startups and merchants to get started or improve their cCommerce journey. With a rich expertise of years, the Magento development team at Webiators thoroughly analyse, research and plan strategies on what the business may need to get better. With more than 30 extensions developed for Magento, the team helps in boosting the performance of the Magento stores of its customers. For a reliable, scalable and quick solution to the Magento needs of a business, Webiators can help by:
Development of an attractive and conversion-oriented Magento store.
Add extensions to boost the performance of the Magento store.
Development of Custom extensions based on the unique requirements of business.
Team of highly experienced professionals can provide support for maintaining, migrating and managing the eCommerce store.
Mageplaza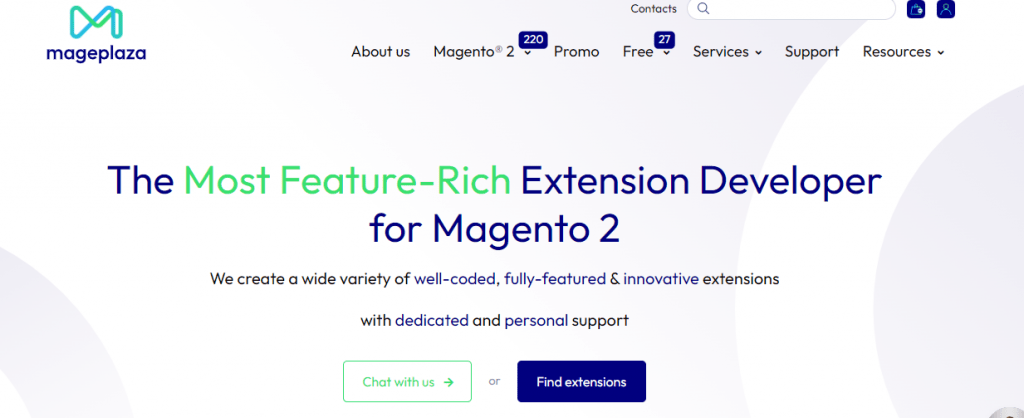 With almost 10 years of experience, Mageplaza offers effective Magento 2 solutions to help provide high-quality service to its store users. Mageplaza offers their services to companies that wish to take their business online and provide better service to their customers. With a number of extensions to choose from, Mageplaza provides solutions to bring more traffic, improve conversion and offer a great customer shopping experience. Mageplaza helps the brands by:
Magento analysis, consultation and strategic planning.
Offers highly functional eCommerce stores to its customers.
Provides greater support with numerous extensions ready-to-use .
Boosts store SEO to drive more traffic.
BSS Commerce

BSS Commerce offers all the solutions for B2B and B2C eCommerce Brands to Boost the Growth of its Customers. The team of professionals excel in Multiple Platform provide flexible and effective solutions to all the different business niches. BSS Commerce provides a lot of extensions for Magento 2 stores that can help in creating a better customer experience in your Magento store. BSS Commerce help the brands by:
Developing user-friendly websites and products.
Offers extensive support even after website launch.
Effective optimization of Magento websites.
Solutions to make Magento stores better to offer better customer service.
OrangeMantra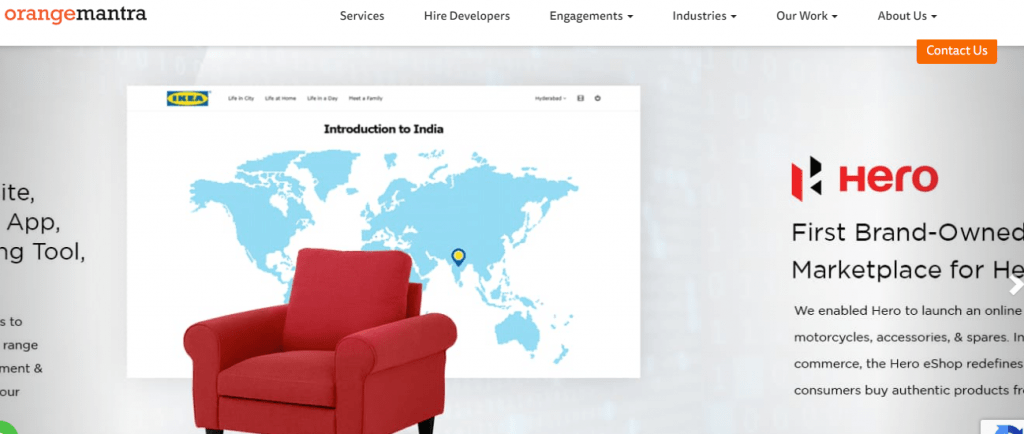 With an expertise in creating websites, applications, and mobile applications for small and large companies for different niches, Orangemantra has changed things for many business owners out there. They make sure to provide their clients with best solutions when it comes to channel their growth through eCommerce. The team specialises in creating large profits by ensuring great quality service aimed towards success. With years of experience in multiple facets including website design and development, mobile apps creation, Support and maintenance, the brand has made itself one of the great Magento development companies out there.
Easy Magento Customization based on unique requirements of business.
Provides seamless integration with APIs and other code operations.
Easy data transfer with no data loss and easy process.
Quick Magento 2 development service for brands across niches.
Mconnect Media

M-Connect Media is one of the leading eCommerce development companies out there. The brand has a team of qualified developers that help the customers by assisting them regarding any Magento eCommerce solution including development, customization, custom modules, and also provide support and maintenance as per the requirements of its customers. The brand focuses majorly on their client's satisfaction and therefore, tries to provide solutions that encourage customer satisfaction.
Team of professionals for support throughout eCommerce Journey.
Custom web application development based on the needs of the customers.
Experts in their team monitor project tasks and the activities along with follow ups for maximum results.
Best strategies after deep analysis and planning to ensure greater results
For any merchant providing the best service should be a top priority. When it comes to the eCommerce world, the merchants should ensure that they are taking care of everything right from proper navigation on the website, easy to use store and smooth shopping experience. Therefore, there is a need for Magento development companies for new and existing businesses. You need to choose the best Magento developers that fulfils the criteria of what you want for your business when it comes to eCommerce. 
To know more, visit https://webiators.com/
Explore More opportunities for your Magento 2 store at Webiators Store
Hit 5 Stars if you find this post helpful