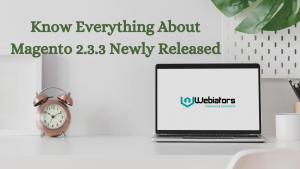 Being one of the foremost dependable stages for an E-commerce store, Magento is at the beat of the advertising for many reasons. But the most reason for its progressing can be credited to Magento's steady bug and blunder fixes with their convenient overhauls. With the most recent highlights and enhancements, Magento discharges its adaptation which makes it the leading choice for any eCommerce store development.
Magento has released its most recent version 2.3.3 on October-2019. Magento is having one of the biggest eCommerce community which makes a difference in them to keep up-to-date with respect to client issues and bugs happening in their past adaptations. Magento is an open-source stage continuously recommend the clients to utilize the most recent form in arrange to avoid the store from vulnerabilities. So, let's look at a few of the highlights of Magento's most recent adaptation 2.3.3.
The Magento 2.3.3 release strengths on these features:
PSD2 compliance with core payment methods like Braintree payment method
Cross-site scripting protection against future exploits.
PHP 7.3.x and PHP 7.2.x support
Support for Varnish 6.2.0.
Zend Framework 2 Components have been upgraded to the Active/LTS versions.
Faster loading time with non-critical CSS elements moved to the bottom of the page.
Page Builder enhancements
The WYSIWYG editor has been upgraded to TinyMCE v. 4.9.5​.
Tracking user actions and events
Bug fixes in inventory management
Google Shopping ads Channel Marketplace extension available as a bundled extension
Introduces a new vendor developed extension – Yotpo with enhancements in Amazon Pay, dotdigital, Klarna, and Vertex
Increase in the Core Payment Methods with Magento 2.3.3 Release:
PSD2 compliance with Braintree payment method
Authorize.net offers to make 3D Secure verification through third-party services. It supports 3DS 2.0 through CardinalCommerce.
Performance Improvements with Magento 2.3.3 Release:
Store owner can turn off the automatic URL rewrite generation
Improved page load speed
Improved performance of core storefront tasks such as the loading of category, configurable product, home, and checkout pages.
GraphQL Improvements
Ability to process payments through PayPal Express checkout, Payflow Pro and Link Express Checkout, Authorize.net, Braintree, etc
Ability to add the configurable product to cart
Integration of Google Shopping Ads Channel
The Google Shopping Ads Channel extension is now part of the core code with the latest version. With this feature, reach out to more potential customers, easily manage the advertising campaign, and leverage the smart shopping campaigns.
Improvements in Vendor Developed Extensions
Integration of Yotpo with Magento admin
Amazon Pay is now PSD2 directive compliance for UK and Germany
Dotdigital has better product catalog sync for bundled and custom products and improved communications for the abandoned cart.
Klarna now offers options to disable sending customer details, support B2B transactions, and integration with PayBright, a Canadian payment method.
Enhancements in Shipping
Support for bundled products
Improvements in:

Batch order processing
Carrier Integration
Shipping Method preview in shipping portal
Checkout
Apart from these exciting improvements, there are hundreds of issues fixed for open source and commerce edition. It can be referred at:
Do refer to the Magento 2.3.3 system requirements before installing the latest version!
One more thing to note is the backward incompatibilities that you need to check from here so as to avoid any issues if you are using the core functionalities that may be using it.
Other releases:
Download the latest version from here and get started to offer the best shopping experience ever to your valuable customers.
Wanna get help from experts to update your store to the latest version?
Hit 5 Stars if you find this post helpful